Communication
If possible, leave your phone at home. However, this is increasingly difficult as we need to communicate during protests. If you must bring your phone, follow this guide to do so safely.
Tip: consider using a burner phone.
Use Signal to organize and communicate with other protestors you trust. Install here: signal.org/install.
Avoid sending plain text SMS messages.
Do NOT use messaging apps like WhatsApp, iMessage, Facebook Messenger, Telegram, or other social media chat apps — at least not for sensitive communications or for organizing purposes, and certainly not during a protest or direct action.
Why Signal? Signal is widely considered the "gold standard" when it comes to encrypted messaging among the InfoSec and broader tech communities. It employs an advanced encryption protocol and it is open-source, which means it can be independently verified by experts. Additionally, Signal is a 501(c)(3) nonprofit organization, primarily funded by the Freedom of the Press Foundation and more recently, the Signal Foundation. This stands in contrast to the for-profit and VC-funded companies that produce other messaging apps.

None of the other messaging apps, including Telegram, meet all of the qualifications of Signal.

While WhatsApp and FB Messenger now have the option to be encrypted using the Signal Protocol, they are owned by Facebook, a company whose primary interest and business model depends on collecting and selling your information and information about you. The usage of Facebook's apps can be more easily monitored and Facebook continues to harvest metadata from these apps. Facebook and other social media companies also routinely and willingly cooperate with law enforcement agencies.
How to set up an anonymous burner phone. By @foxfire_brigade.
View the full guide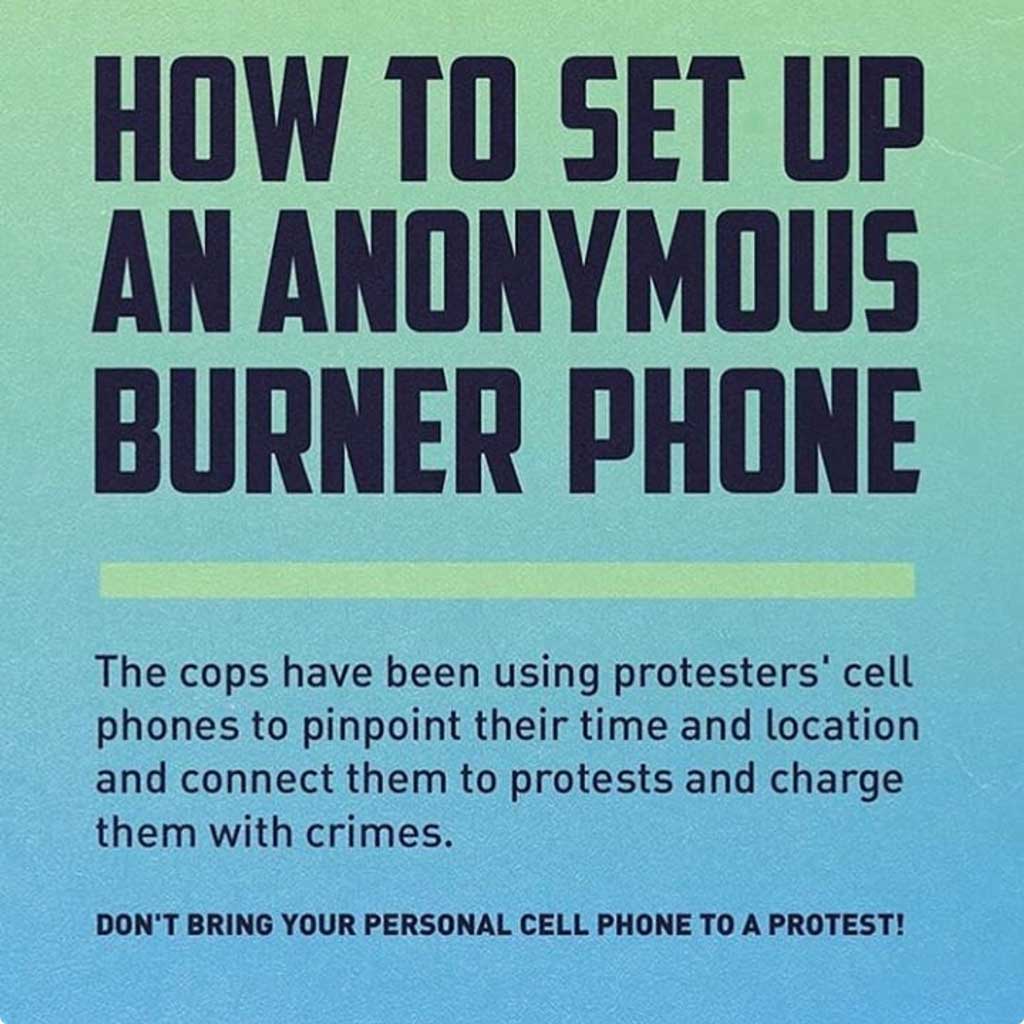 Use Jitsi for video calls. It is encrypted and open-source, like Signal.
Do NOT use Zoom for organizing. Zoom calls are not secure, are not encrypted, are full of security and privacy flaws, and the company willingly and actively cooperates with law enforcement agencies.
No seriously, fuck Zoom. Zoom CEO Eric Yuan said in an interview, "Free users for sure we don't want to give that [end-to-end encryption] because we also want to work together with FBI, with local law enforcement in case some people use Zoom for a bad purpose."
CryptPad: secure, quick collaborative documents
RiseUp.net: online communication tools for people and groups working on liberatory social change