Clothing & Gear
It is important to not stand out in the crowd. Regardless of your activity or how you behave, the police could identify you in photos or videos that are posted to social media or news stories. Everyone has a camera in their pocket. It should be clear that we cannot trust the police, so the last thing you want is for them to be able to identify you for any reason. You want to avoid any potential harassment or retaliation from the cops.
Warning: If you are filmed or photographed doing something that law enforcement considers "illegal", they will try their hardest to find and arrest you. Do NOT stand out! We cannot stress this enough. Law enforcement is eager to make examples out of protesters to deter future direct action. In Salt Lake City, protesters being charged as a 'gang' face a life sentence.
Not convinced? Learn what not to do from these stories:
Philadelphia Inquirer: The FBI used a Philly protester's Etsy profile, LinkedIn, and other internet history to charge her with setting police cars ablaze:
The path took agents from Instagram, where amateur photographers also captured shots of the masked arsonist, to an Etsy shop that sold the distinctive T-shirt the woman was wearing in the video. It led investigators to her LinkedIn page, to her profile on the fashion website Poshmark, and eventually to her doorstep.
HeraldNet: Edmonds man, 20, charged with arson during Seattle protest:
As agents conducted surveillance on Jackson over the summer, they took a July 2 photograph of him outside a convenience store in what appears to be a sweatshirt with the same design and logo as the protester throwing the Molotov cocktails. The tipster also said the suspect stole a gas mask from his employer, a Mountlake Terrace plumbing company.

A court-authorized analysis of cellphone records placed Jackson in the area at the time of the fires.
Wear plain, nondescript clothing. Solid, darker colors are best to blend in. Bright colorful clothing stands out. Solid black for everything is best.
Avoid logos and text! Do no wear any clothing with prominent designs or patterns.
Dress in layers to accommodate changes in weather.
Cover any identifying tattoos or piercings. Remove any jewelery from visible piercings.
Tie up your hair.
Wear a hat.
Do NOT wear contacts — in case of tear gas or pepper spray.
Do NOT wear makeup.
Do NOT wear jewelry.
Tip: It is best to be as bare-faced as possible. The chemicals in tear gas and pepper spray aren't easy to remove from your skin. It is better to not wear makeup, because the tear gas can cling to things like mascara or lipstick. (Source)
Decide what you need and what will work for you and your level of engagement, disregard the rest. Do not bring credit cards or anything else that is not absolutely vital.
Water (preferably in a sports water bottle)

For drinking, but also to flush chemical agents out of your eyes

Snacks: energy bars, granola bars, jerky, etc.
First aid kit
Write down emergency contacts on your arm
Face mask for covering your face

To prevent police from identifying you in photos
For COVID-19 protection

Goggles for tear gas, pepper spray, rubber bullets (Guide below)
Gas mask / Respirator or heavy duty mask for tear gas (Guide below)
Helmet to protect against projectiles like rubber bullets (Guide below)
Body Armor for even stronger protection (Guide below)
A laser pointer (find details in the Tactics Guide)
A pen and paper to write down arrestee's information
Sunscreen
A change of clothes

It is a good idea to have "protest clothes" and "normal street clothes" that you can change into when leaving the protest, or if you otherwise need to act as if you were not involved in the action.

Cash — no credit cards!
A power bank to charge your phone (if you must bring it)
The militant demonstrator's guide to helmets. By @blackpowderpress.
View the full guide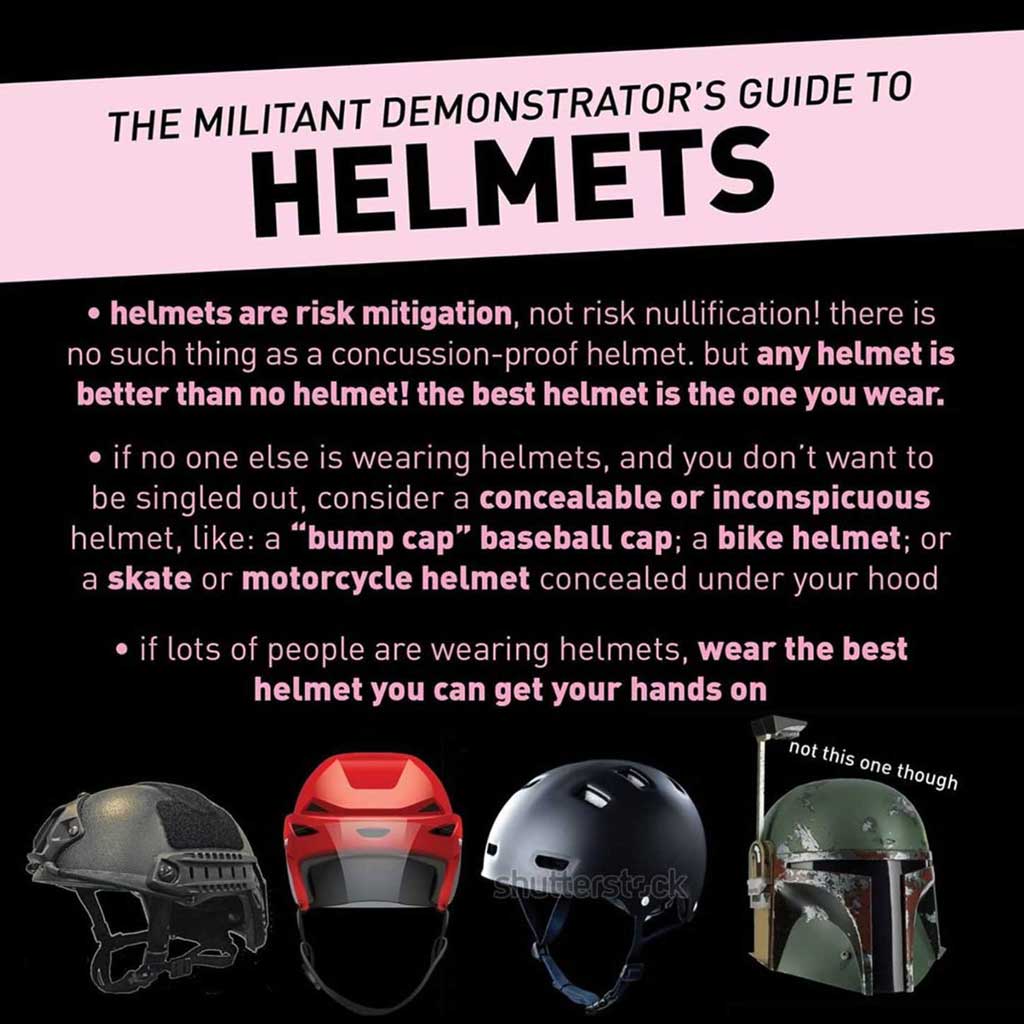 Safety gear required for beating tear gas.
View the full guide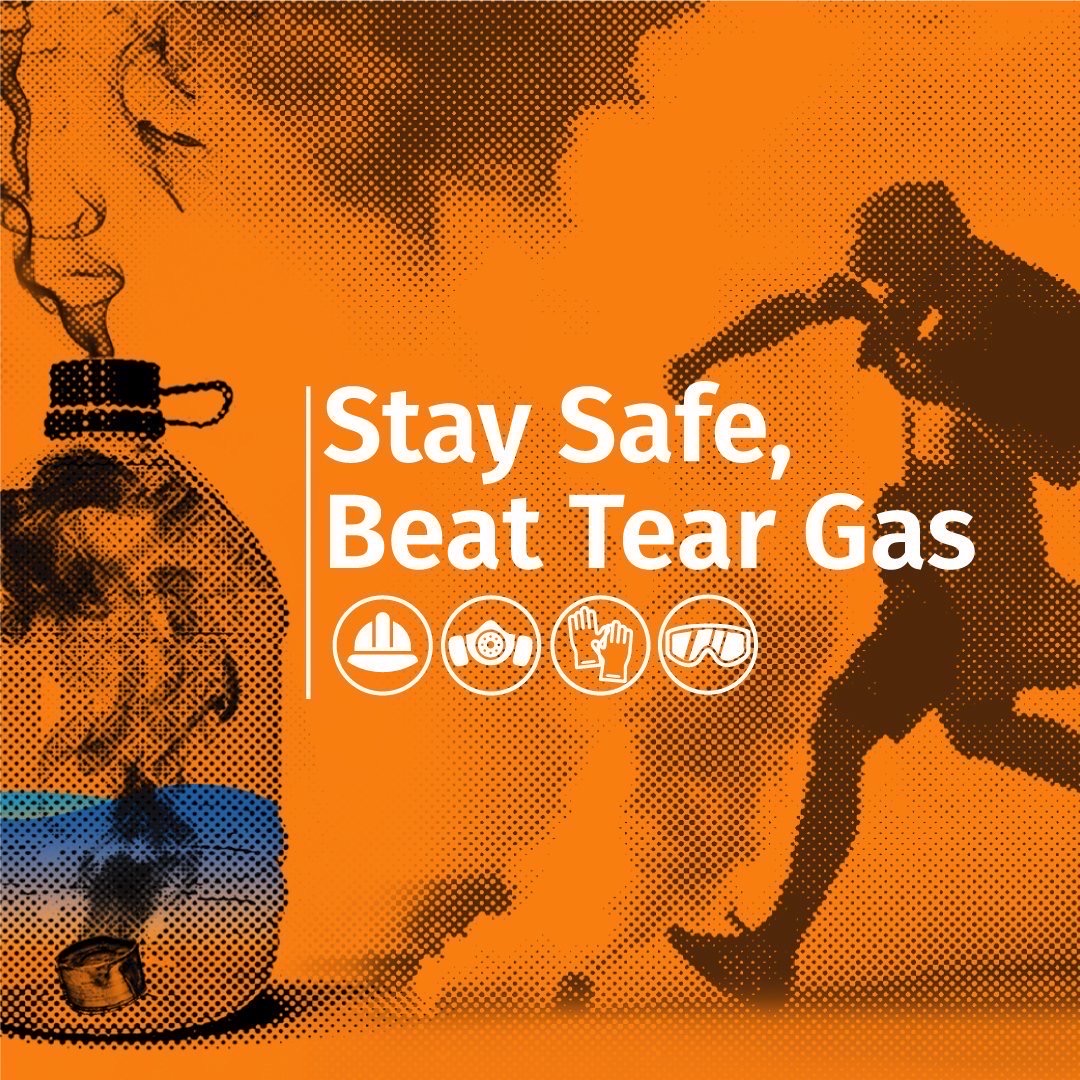 Guides for sharing easily on social media.